Welcome to our 'Restorative retreat', situated at Tirohanga (9.18 kms east of Opotiki).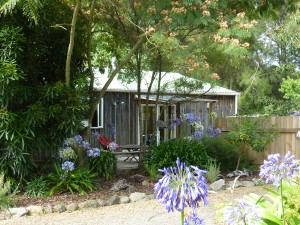 The concept for this retreat was formulated in my mind when some years ago I needed a place to rest for my own well being…..and couldn't find such a place.
I found beauty day spas, weeklong health retreats, weekend yoga retreats but none that I felt I could just go just for the day and rest in peaceful surroundings, have a massage if I wanted, a spa if I wanted and organic foods/juices provided, without having to go out of the property.
The concept arose again with bigger certainty when my husband and I bought our Tirohanga property in 2007. Being surrounded by large trees it was immediately peaceful and being across from the beach and not far from a river, it appealed even more.
It was however, rather over grown and it has taken a number of years to clear undergrowth and plant hundreds'  of new trees, renovate the cottage, renovate a clinic room, plant a home orchard and garden and learn to keep cows and ducks.
The garden evolved, and is still evolving along the lines of a picking garden with the
idea in mind that many people may like to 'pick & eat'……. just as I do.
We first planted fruit trees. 'Blackboy' peaches from seed my grandson planted, a nectarine, a golden queen, an almond, a fig, several feijoas, a variety of citrus including a kaffir lime for Thai recipes, several apples and two pear trees, then an apricot.
We haven't had much luck with avocado as we get the occasional hard frost.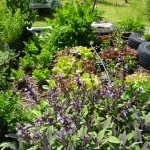 Then an herb garden evolved planted inside stacked tyres (which work well to keep in the heat, and allow the garden to continue to grow over winter).
Around this I planted strawberries, then grapes on the fence, then raspberries and black currants (for juice). Rhubarb & lemon grass are there too.
In the early spring we plant potatoes, kumera, sweet corn, tomatoes, garlic, heaps of onions and shallots, peas, cucumber, gherkin, beans and this year I've planted mung beans, kidney beans and lentils. It's a huge learning curve to find out how everything grows AND then what you do with it.
Preserving, drying, plaiting etc etc .  It's great!  We 'Google' alot!
Especially about animal husbandry of which we knew nothing.
We now have several cows (for organic meat) and because I don't like buying supermarket chicken we decided to keep muscovy ducks. These are great and now provide all our eggs and poultry meats.
Now in 2012 it is starting to become the place I visualized and we are starting to think about making room for people to stay.
We haven't been able to build retreat cabins as yet but we do have our large comfortable motor home available for visitors to use if they want to stay overnight.
There is the use of a toilet & shower room in the clinic area and also an outside cold "refreshing" shower, which is great on extremely hot days and for after the beach.
The motor home accommodates three people (double bed plus one single). $75 nightly.

We are also open to having people for day stays.
Base cost is $35.00 per person per day.
During your stay I can offer you either a relaxing Massage, Osteopathic treatment or Naturopathic consultation.
Reflexology if you wish. We have a spa you can use.
We will provide morning tea when you arrive and afternoon tea before you leave.
Lunch is optional (cost $15/person).
As much as possible we use produce that we grow our selves.
Further costs are built around what you want to be included in this stay.
Treatments are as follows.
Massage ($70)
Osteopathic treatment ($70)
Naturopathic session ($70)
Reflexology ½ hour $35.00)
Any of these therapies can help balance the body and enable it to heal.
Things to do include:

– spa
– walk
– rest  – The motor home and day room have comfortable couch/beds.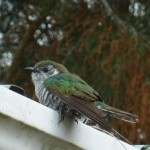 – enjoy the space in the meditation circle – the bird life can be prolific. We have tuis, wax eyes, fantails, warblers, kingfishers and in the spring shinning cuckoos and more recently North Island kakas have arrived.
– fish  – great beach for surf casting or kontiki.
– swim  – beach across the road or the river is a 2k easy walk.
– cycle – the new Motu cycle track is across the road. You can use this track to cycle to/from Opotiki if you wish using the new swing bridge.